Our abrasive flow deburring in New York NY can finish metal parts to the most exacting standards
Metal products created by EDM, laser sintering, casting, or conventional machining will require some type of finishing to remove burrs and other imperfections left by the manufacturing process. When manual deburring or electrochemical deburring isn't enough, turn to Extrude Hone AFM for abrasive flow deburring in New York NY. This process can:
Deburr any internal or external edge, slot, hole, or passage with a chemically inert media
polish complex arrays of cross-drilled and intersecting holes with ease
Work on any type of metal such as titanium, Iconel, aluminum, copper, bronze, etc.
Perform roughing and finishing in one pass
Deliver highly precise and repeatable results
How does it achieve all this?
Abrasive flow deburring in New York NY is a specific type of abrasive flow machining process that utilizes an abrasive-laden polymer media that can selectively and controllably abrade the surfaces it flows across. We use a holding tool to direct the flow exactly where it is needed and a hydraulic ram to pressurize the polymer media so that it contacts all the surfaces at once and removes material evenly. By adjusting the following variables, we can adjust our process to suit different types of metal, whether you need fine polishing or aggressive surface removal:
Media viscosity
Abrasive particle size and concentration
Media flow rate, pressure, and temperature
Now you might wonder…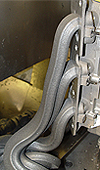 What are some ideal applications for abrasive flow deburring in New York NY?
Abrasive flow deburring in New York NY can be customized to the exact specs of just about any project, whether you require aggressive surface removal or just bit of honing. But there are some industries where it is used more often. For example, Extrude Hone AFM frequently does work for:
Aerospace: When it comes to aerospace applications, precision is of the utmost importance. It makes sense to continue to use abrasive flow deburring in New York NY to finish all kinds of aerospace parts, as this highly precise method was actually invented for aerospace in the first place.
Automotive Engines: Extrude Hone AFM discovered the benefits of abrasive flow deburring in New York NY to improve the efficiency and performance of combustion engines, and today our process is routinely used by major manufacturers like Ford and Cadillac. The most commonly deburred automotive part is the intake manifold. By smoothing all the internal passages in the manifold, our process can improve the efficiency of combustion and reduce emissions.
Food Processing Equipment: All the surfaces that food comes into contact with during processing need to be clean and smooth. If you have burrs, you could easily end up with contamination from bacteria or even from tiny bits of metal if the burrs break off during processing. Hundreds of companies have benefited from Extrude Hone's Ultra Pure deburring process, which can remove both burrs and cavities to ensure quality results from all kinds of food processing equipment.
Call Now to Learn More
Extrude Hone AFM can assist with deburring projects of all sizes, whether you have one part for your muscle car or a thousand parts for your business. To get a quote, please contact us online or Call us at (562) 531-2976.