Experience the enhanced performance of honed out motorsports in Orange CA
As a motorsports enthusiast, chances are you're always chasing the next improvement that could make your engine perform its best. One simple way to take your hobby to the next level is to start exploring honed out motorsports in Orange CA. The honing process can improve any type of internal combustion engine, such as:
2-stroke, 4, 6, 8, 10, or 12 cylinders
Hemis
Diesels
Turbos
Aluminum
Cast iron
How Our Process Works
For honed out motorsports in Orange CA, you need exceptionally smooth interior engine passages. At Extrude Hone, we accomplish this using a state of the art abrasive flow machining process that enables us to evenly remove up to 1 mm of material from all interior surfaces of a given part.
We can control the amount of material that is removed from your engine part by choosing the viscosity and abrasion concentration for the polymer media that will be flowed through your part. The tooling holding the part and the pressure can also be adjusted. We have developed a huge array of durable, hard-working media formulations, all of which feature recirculating abrasives that will flow without clogging or separating.
Benefits of a Honed Out Intake Manifold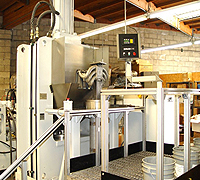 Honing any part of an internal combustion engine will help increase fuel and air flow. However, the key part to address for honed out motorsports in Orange CA is the intake manifold. After the intake manifold has been honed, flow capacity will increase about 25 percent. With better volumetric efficiency in the intake manifold, fuel will burn better, the cylinder will be more completely evacuated, and you'll get a stronger measure of fuel and air for the next ignition. This results in:
Increased horsepower
More thrust
More torque
Better fuel efficiency
Reduced emissions
What About the Exhaust Manifold?
While exhaust manifolds can be honed, for most applications an aftermarket header is the better solution for enhancing performance. However, if you are restricted to original components, we can certainly provide honing for cast exhaust manifolds.
Get the Best Services for Honed Out Motorsports in Orange CA
When you need services for honed our motorsports in Orange CA, turn to the company that pioneered this process: Extrude Hone. We have thousands of pounds of abrasive media on hand so we are ready for your custom project. We can hone aluminum parts in 7 to 11 working days and cast iron parts in 3 to 4 weeks.Call us at (562) 531-2976 now to get started.
Extrude Hone AFM operates out of Paramount, Ca. We service all U.S. cities from our location in Paramount, Ca. If you have further questions regarding our ability to help you in your location, please call us 562-531-2976.