Extrude Hone AFM offers expert abrasive flow machining in Santa Ana CA for all your metal parts finishing needs
Depending on the type of metal part in question and the type of finishing needed, you may have a variety of options. Unfortunately, traditional methods may not be equal to your needs on a more complex job. For example, manual polishing is extremely tedious and costly work, and isn't effective on extremely convoluted passages.
The good news is, Extrude Hone AFM offers a service equal to the most complex needs:
Abrasive Flow Machining in Santa Ana CA.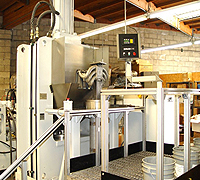 In abrasive flow machining in Santa Ana CA, a hydraulic ram is used to push an abrasive-laden polymer media through the workpiece. This results in controlled erosion of the surfaces that the media comes in contact with. Compared to other finishing methods, abrasive flow machining offers several important benefits:
The process can be used on any metal including titanium, Iconel, copper, aluminum, bronze, and other alloys
It reaches areas hand tools and line-of-sight methods cannot
Both roughing and finishing can be completed in one process
You can finish multiple passages at once or direct flow to one passage at a time using the appropriate tooling
The process can be controlled with incredible precision to meet your exact specs
Uses for Abrasive Flow Machining in Santa Ana CA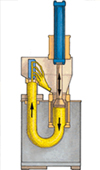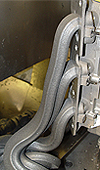 By controlling different variables, we can easily adapt abrasive flow machining in Santa Ana CA to different uses such as:
Radiussing: Edges of discs and blades can be finished to a high standard to enhance strength and performance.
Surface Stress Relief: By polishing away EDM recast layers, potential sources of surface stress can be removed to reduce the likelihood of metal fatigue leading to parts or system failure.
Polishing: No matter how complex the shape of a part or passage, abrasive flow machining in Santa Ana CA can be used to deliver a uniform surface improvement.
Geometry Optimization: AFM can be used as an aftermarket improvement on engine parts like manifolds, turbines, pumps, and hydraulic parts to optimize flow through the passages without affecting volume. AFM can also accurately adjust the size of precision dies while also enhancing their service life.
Deburring: Even the tiniest metal burrs can interfere with the performance of a part, or even put human health at risk in the case of burr trapping bacteria in a food processing or medical component. With AFM, burrs can be removed without risk of damage or contamination to the passages in the part. The polymer media will carry them totally away.
Partner with Extrude Hone AFM Today
Extrude Hone AFM is a 40-year industry veteran. We know abrasive flow machining in Santa Ana CA and we are confident we can deliver the high quality improvements you need. Call us at (562) 531-2976 or contact us online to get a quote or to learn more about partnering with us.
Extrude Hone AFM operates out of Paramount, Ca. We service all U.S. cities from our location in Paramount, Ca. If you have further questions regarding our ability to help you in your location, please call us 562-531-2976.