Extrude Hone AFM offers expert abrasive flow machining in Atlanta GA for all your metal parts finishing needs
Do you need to remove burrs from the holes or passages in a metal part? If your needs are simple, manual polishing or electrochemical deburring might work. But, if your needs are more complex, you may be looking for a different solution that can meet your strict specifications.
Fortunately, you've found a process that can help at Extrude Hone AFM:
Abrasive Flow Machining in Atlanta GA.
Abrasive flow machining in Atlanta GA utilizes specially formulated polymer media to suspend abrasive grit and deliver it evenly to every corner of the workpiece being finished. Compared to other finishing methods, abrasive flow machining offers several important benefits:
With the right abrasive grit and viscosity of polymer media, AFM can be used on any metal from titanium to aluminum
Hidden slots, convoluted passages, and cross drilled holes can all be finished with ease
It provides roughing and finishing in one pass
You can finish multiple passages at once or direct flow to one passage at a time using the appropriate tooling
The process can be tailored to provide aggressive removal or delicate honing to your exact specs
Uses for Abrasive Flow Machining in Atlanta GA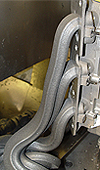 The customizable nature of abrasive flow machining in Atlanta GA lends itself well to a variety of applications across different industries. Some the most common uses for AFM include:
Radiussing: AFM can be used to generate continuous, true-edge radii ideal for jet engine discs and other aerospace applications.
Surface Stress Relief: Without proper finishing, EDM recast layers and other types of fatigue or stress points can lead to crack propagation and premature parts failure.
Polishing: With abrasive flow machining in Atlanta GA, every millimeter of the workpiece can be polished evenly to deliver the desired surface improvement.
Geometry Optimization: By using AFM to smooth and shape passages, air, gas, or liquid behavior can be improved for reduced cavitation and enhanced performance in engines, turbines, pumps, and hydraulic parts. AFM is also very useful for resizing precision dies.
Deburring: Burrs of any size can alter flow or otherwise detract from highly precise processes. They are especially problematic for food and medical applications because they can harbor bacteria. With AFM, burrs can be removed without risk of damage or contamination to the passages in the part. The polymer media will carry them totally away.
Partner with Extrude Hone AFM Today
Extrude Hone AFM is a 40-year industry veteran. We know abrasive flow machining in Atlanta GA and we are confident we can deliver the high quality improvements you need. Call us at (562) 531-2976 or contact us online to get a quote or to learn more about partnering with us.
Extrude Hone AFM operates out of Paramount, Ca. We service all U.S. cities from our location in Paramount, Ca. If you have further questions regarding our ability to help you in your location, please call us 562-531-2976.