Experience the enhanced performance of honed out motorsports in Boston MA
Extrude Hone was instrumental in pioneering an abrasive flow machining process for increasing fuel and air flow in automotive engines. Our process has been adopted by major auto manufacturers for use on their top-performing models, but we also make honed out motorsports in Boston MA accessible to smaller clients. We can service parts for the following kinds of race car, muscle car, motorcycle, and high-performance truck engines:
2-stroke, 4, 6, 8, 10, or 12 cylinders
Hemis
Diesels
Turbos
Aluminum
Cast iron
How Our Process Works
Honed out motorsports in Boston MA is based on the principle that optimizing the passages your air and fuel flows through will enhance performance. Extrude Hone's abrasive flow machining process is ideal for giving this result. Unlike hand honing, it can reach deep into every twist of every passage in a given part and remove a consistent and controllable amount of material for a smooth finish.
We can control the amount of material that is removed from your engine part by choosing the viscosity and abrasion concentration for the polymer media that will be flowed through your part. The tooling holding the part and the pressure can also be adjusted. We have developed a huge array of durable, hard-working media formulations, all of which feature recirculating abrasives that will flow without clogging or separating.
Benefits of a Honed Out Intake Manifold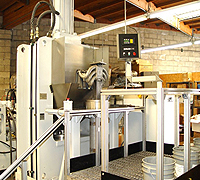 If you only want to involve one part of your engine in honed out motorsports in Boston MA, make it your intake manifold. By honing and polishing its interior passages, you can increase fuel and air flow up to 25 percent. This results in more complete combustion of fuel and evacuation of exhaust, so you can enjoy:
Increased horsepower
More thrust
More torque
Better fuel efficiency
Reduced emissions
What About the Exhaust Manifold?
Exhaust manifolds can certainly be honed. This is often necessary for situations where adding a header is not allowed due to race rules, not practical due to lack of available aftermarket parts, or not desirable due to concerns about authenticity.
Get the Best Services for Honed Out Motorsports in Boston MA
Extrude Hone is your go-to provider for services for honed out motorsports in Boston MA. We have the best state of the art equipment along with an extensive in-stock inventory of abrasive media.Call us at (562) 531-2976 now to learn more about our process or to get a free quote.
Extrude Hone AFM operates out of Paramount, Ca. We service all U.S. cities from our location in Paramount, Ca. If you have further questions regarding our ability to help you in your location, please call us 562-531-2976.