Our abrasive flow deburring in Chicago IL can finish metal parts to the most exacting standards
A 100 percent perfect manufacturing process has not been invented yet. Even the most high-tech methods can leave behind microscopic burrs and other imperfections. Removing these imperfections is essential for getting the best performance from the part, but the process can be very difficult on hidden interior surfaces. Manual deburring may not be possible, and electrochemical deburring may not be sufficient. Fortunately, abrasive flow deburring in Chicago IL will get the job done. Our process can:
Remove burrs from any internal or external surface with a chemically inactive media
Handle complex arrays of cross-drilled and intersecting holes with ease
Be applied to any metal from the hardest super alloys to soft aluminum or copper
Provide roughing and finishing in one pass
Deliver highly precise and repeatable results
How does it achieve all this?
Abrasive flow deburring in Chicago IL is accomplished through the use of specially formulated abrasive-laden polymers that behave sort of like flexible, 3D sandpaper. Our polymers are designed to keep the abrasive particles suspended uniformly at all times, while also allowing them to recirculate so fresh abrasive is always available where the polymer meets the surface being deburred. The process is highly customizable, enabling us to remove imperfections large and small from all kinds of metals. Our technicians know exactly how to adjust the following factors to give the exact results you want:
Media viscosity
Abrasive particle size and concentration
Media flow rate, pressure, and temperature
Now you might wonder…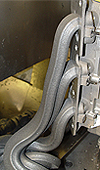 What are some ideal applications for abrasive flow deburring in Chicago IL?
Abrasive flow deburring in Chicago IL can be customized to the exact specs of just about any project, whether you require aggressive surface removal or just bit of honing. However, it is most commonly used for:
Aerospace: Abrasive flow deburring in Chicago IL can enhance aerospace applications in many ways, from improving airfoil surface conditions to creating true radius edges to reducing mechanical fatigue around holes and attachments.
Automotive Engines: Whether it is air or fuel flowing through the passages in an engine part, any turbulence is going to decrease efficiency. Using abrasive flow deburring in Chicago IL, we can reduce turbulence and increase flow up to 25 percent. This in turn encourages more complete combustion for better fuel efficiency, power, and performance.
Food Processing Equipment: All the surfaces that food comes into contact with during processing need to be clean and smooth. If you have burrs, you could easily end up with contamination from bacteria or even from tiny bits of metal if the burrs break off during processing. Hundreds of companies have benefited from Extrude Hone's Ultra Pure deburring process, which can remove both burrs and cavities to ensure quality results from all kinds of food processing equipment.
Call Now to Learn More
If you would like to learn more about our service, please Call us at (562) 531-2976  or fill out our online contact form. Don't forget--we can handle project of all sizes, from aftermarket improvements on one single auto part to professional deburring for thousands of newly manufactured parts.
Extrude Hone AFM operates out of Paramount, Ca. We service all U.S. cities from our location in Paramount, Ca. If you have further questions regarding our ability to help you in your location, please call us 562-531-2976.