Get your engine components honed out in Chicago IL to improve performance
When you purchase standard parts for your motorcycle, car, truck, or personal watercraft engine, there will be slight imperfections in the surfaces of the interior passages. At Extrude Hone, we can remove these imperfections to help enhance your engine's performance. It's as simple as getting key parts honed out in Chicago IL.
How Extrude Honing Works
When a part is honed out in Chicago IL, a small amount of metal--about 1 mm--is removed from the surfaces of the interior passages. While hand honing is possible, it is not the most efficient process. It takes far too long, and it may not reach the deepest interior passages. Abrasive flow machining provides a superior alternative, enabling you to achieve consistent, uniform, and controllable surface changes in the entire part. This is accomplished by passing a specially formulated, abrasive-laden polymer media through the part. At Extrude Hone, we have a huge array of media formulations, allowing us to choose the exact one that will give high precision results on any given part.
Benefits for Performance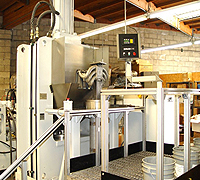 Getting essential engine components honed out in Chicago IL can increase fuel and air flow by up to 25 percent. This in turn will give you:
Increased horsepower
More thrust
More torque
Better fuel efficiency
Lower emissions
What Kind of Parts Can Be Honed Out in Chicago IL?
With a few exceptions, most engine parts that air or fuel flows through can be honed out in Chicago IL. We can vary the abrasive media depending on the type of metal in the part--for example, a lighter abrasive for aluminum and a heavier one for cast iron. We frequently hone intake manifolds, as well as exhaust manifolds when there is no aftermarket alternative available. While headers contain interior welds that can disrupt flow, you can't just hone them out. An exterior weld must be added first to ensure the strength and integrity of the part.
Why Choose Extrude Hone
Extrude Hone has been a leader in abrasive flow machining for over 30 years. We actually pioneered the process for automotive parts. Thanks to our many years of experience, you can trust us to provide superior quality extrude honing that will remove the exact amount of material you specify. Our skill is particularly important when you want flow matched parts, since parts cannot be honed together.
Send Us Your Components Today
Considering getting your intake manifold or other part honed out in Chicago IL?Call Extrude Hone at (562) 531-2976. We'll be happy to give you a quote and a time frame for the project.
Extrude Hone AFM operates out of Paramount, Ca. We service all U.S. cities from our location in Paramount, Ca. If you have further questions regarding our ability to help you in your location, please call us 562-531-2976.