Extrude Hone AFM offers expert abrasive flow machining in Dania Beach FL for all your metal parts finishing needs
Do you need to remove burrs from the holes or passages in a metal part? For simple applications, such as large holes or simple passages, manual polishing or electrochemical deburring might be sufficient. But the more complicated the shape of your part, and the more exacting the specifications for the interior geometry of the part, the less satisfactory these methods become.
The good news is, you've found a process that can help at Extrude Hone AFM:
Abrasive Flow Machining in Dania Beach FL.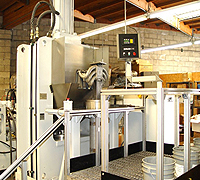 Abrasive flow machining in Dania Beach FL works kind of like liquid sandpaper, utilizing an abrasive-laden polymer media to essentially erode away unwanted metal from the workpiece. This process offers several important advantages over other finishing methods:
The process can be used on any metal including titanium, Iconel, copper, aluminum, bronze, and other alloys
Hidden slots, convoluted passages, and cross drilled holes can all be finished with ease
It provides roughing and finishing in one pass
Tooling can be created to selectively direct flow to the areas or passages requiring improvement
We can control different variables in the process to meet your exact specs
Uses for Abrasive Flow Machining in Dania Beach FL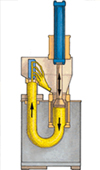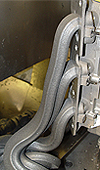 At Extrude Hone AFM, we have developed a huge variety of polymers for use in abrasive flow machining in Dania Beach FL, from ultra-thick formulations to thin ones capable of flowing at nearly the speed of sound through very thin nozzles. This gives us the flexibility to provide all kinds of services including:
Radiussing: Edges of discs and blades can be finished to a high standard to enhance strength and performance.
Surface Stress Relief:EDM recast layers can be removed to eliminate risk of failure on highly stressed components.
Polishing: With abrasive flow machining in Dania Beach FL, every millimeter of the workpiece can be polished evenly to deliver the desired surface improvement.
Geometry Optimization: The shape of interior passages in engines, turbines, pumps, and hydraulic parts has a big impact on performance. Abrasive flow machining can help smooth and shape passages to optimize fluid and gas behavior. Our process is also ideal for enhancing precision through passage dies.
Deburring: Even the tiniest metal burrs can interfere with the performance of a part, or even put human health at risk in the case of burr trapping bacteria in a food processing or medical component. With abrasive flow machining, burrs can be removed without risk of damage or contamination to the passages in the part. The polymer media will carry them totally away.
Partner with Extrude Hone AFM Today
Extrude Hone AFM is a 40-year industry veteran. We know abrasive flow machining in Dania Beach FL and we are confident we can deliver the high quality improvements you need.Call us at (562) 531-2976 or contact us online to get a quote or to learn more about partnering with us.
Extrude Hone AFM operates out of Paramount, Ca. We service all U.S. cities from our location in Paramount, Ca. If you have further questions regarding our ability to help you in your location, please call us 562-531-2976.