Enhance the performance of your engine with extrude hone porting in Denver CO
If you know a lot about cars, you probably already know that parts like intake and exhaust manifolds are seldom optimized for the best fuel and air flow in your average vehicle--instead, these parts must be ported. But do you know the most effective method for getting this done?
Hint: it's not hand porting.
It's extrude hone porting in Denver CO.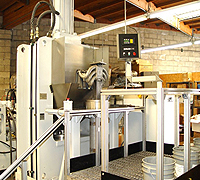 Extrude hone porting, a process which was pioneered over 30 years ago by Extrude Hone AFM's founder, has since become the process of choice for all kinds of engine enthusiasts. Today it's used by OEMs like Cadillac and Ford on their top selling models, and it is also being used by hobbyists on
Racing engines
Muscle cars
Motorcycles
Personal watercraft
High-performance trucks
How Extrude Hone Porting Works
Whereas hand porting can only improve surfaces that hand tools can reach, extrude hone porting in Denver CO can improve the entire passageway and carries no risk of ripples or unevenness. In extrude hone porting, a putty-like polymer media loaded with abrasive grit is passed through the passages in a manifold under pressure from a hydraulic ram. As the polymer runs through the part, it becomes a flexible slug that sands away material evenly on all sides of the hole or passage. Our polymer media will flow through countless cycles without clogging or separating. Fresh abrasive particles will constantly recirculate to the edges of the media, so you always get even honing on every exposed surface. We can control the process to remove the precise amount of material required to enhance your part.
Benefits of Extrude Hone Porting in Denver CO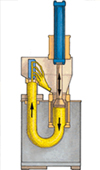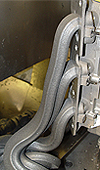 Extrude hone porting in Denver CO can deliver many benefits for any passage that gas or liquid will be flowing through. The most commonly ported parts are intake and exhaust manifolds, but we can also port engine heads, turbo impellers, housings and pumps, and 2 or 4 stroke cylinders.
The result of the extrude hone porting process is increased flow velocity, not flow volume. Fuel is burned more efficiently and exhaust is evacuated more completely. The result is:
Increased horsepower
More thrust
More torque
Increased fuel efficiency
Reduced emissions
We can't make specific promises as to how much more horsepower you'll get or how much fuel efficiency will improve after extrude hone porting in Denver CO, because these end results depend on your specific engine configuration. However, you can expect to see up to 25 percent increase in flow after honing an intake manifold, which will give you an idea of how much performance will improve.
Why Choose Extrude Hone AFM
At Extrude Hone AFM, we invented extrude hone porting in Denver CO. This means you can trust us to deliver superior results every time. To learn more, please call (562) 531-2976 now.
Extrude Hone AFM operates out of Paramount, Ca. We service all U.S. cities from our location in Paramount, Ca. If you have further questions regarding our ability to help you in your location, please call us 562-531-2976.