Our abrasive flow deburring in Kansas City MO can finish metal parts to the most exacting standards
No matter what type of manufacturing process is used to fabricate a metal part, the results will not be perfect. Instead, tiny, jagged burrs will be left behind somewhere on the part. When it comes to removing these imperfections, the traditional methods of manual deburring and electrochemical deburring often leave a lot to be desired--especially if you need a highly precise result. The good news is, you've found a better alternative at Extrude Hone AFM. We can provide abrasive flow deburring in Kansas City MO to:
Remove burrs from any internal or external edge, slot, hole, or passage with a non-reactive media
polish cross-drilled and intersecting holes with ease
Work on any type of metal such as titanium, Iconel, aluminum, copper, bronze, etc.
Perform roughing and finishing in one pass
Deliver highly precise and repeatable results
How does abrasive flow deburring achieve all this?
Abrasive flow deburring in Kansas City MO is a purely mechanical process that works by controlled erosion. We load a polymer media with abrasive grit and then use a specially made "tool" or holder to direct the flow of this material to the specific passages or surfaces needing attention. As we force the material through the workpiece using a hydraulic ram, it makes contact with every millimeter of the surface to be deburred, resulting in very uniform removal of material. The speed of the process and how much metal is removed on each pass depends on:
Type of metal
Media viscosity
Abrasive particle size and concentration
Media flow rate, pressure, and temperature
Now you might wonder…
What are some ideal applications for abrasive flow deburring in Kansas City MO?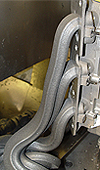 Because it can be controlled so precisely, abrasive flow deburring in Kansas City MO is ideal for any application where internal passages, slots, or holes need to be smoothed. But there are some industries where it is used more often. For example, Extrude Hone AFM frequently does work for:
Aerospace: Abrasive flow deburring in Kansas City MO can enhance aerospace applications in many ways, from improving airfoil surface conditions to creating true radius edges to reducing mechanical fatigue around holes and attachments.
Automotive Engines: Extrude Hone AFM discovered the benefits of abrasive flow deburring in Kansas City MO to improve the efficiency and performance of combustion engines, and today our process is routinely used by major manufacturers like Ford and Cadillac. The most commonly deburred automotive part is the intake manifold. By smoothing all the internal passages in the manifold, our process can improve the efficiency of combustion and reduce emissions.
Food Processing Equipment: Burrs can contaminate food products with metal if they snap off during processing. They can also trap food particles long enough for them to spoil, introducing bacteria into the product. Because our Ultra Pure process is so effective at removing burrs, it is a real boon for the food processing industry.
Call Now to Learn More
If you have questions about abrasive flow deburring or about Extrude Hone AFM, contact us by calling (562) 531-2976 or submitting an online contact form. Don't forget--we can handle project of all sizes, from aftermarket improvements on one single auto part to professional deburring for thousands of newly manufactured parts.
Extrude Hone AFM operates out of Paramount, Ca. We service all U.S. cities from our location in Paramount, Ca. If you have further questions regarding our ability to help you in your location, please call us 562-531-2976.