Have a part to extrude hone in Las Vegas NV? We can meet your exact specs, guaranteed.
Extrude honing, or abrasive flow machining, is an extremely versatile process that can be used to enhance the geometry and surface finishes of all kinds of metal products. When it's time for you to extrude hone in Las Vegas NV, be sure you turn to the pros at Extrude Hone AFM for expert help and reliable, repeatable results.
Now you might wonder…
…How the heck does extrude honing work?
A polymer media carrying an abrasive grit is pushed through the workpiece by a hydraulic ram, causing the media to be extruded through the holes and passages in the workpiece. The grit hones all surfaces of the metal passages as it goes by--hence the name extrude hone. The process is essentially controlled erosion and can be used for aggressive surface removal or fine polishing as the case may require.
Why should I choose Extrude Hone AFM?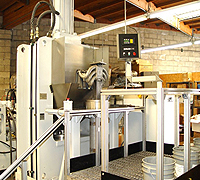 Extrude Hone AFM is a nationally recognized leader in this technology, having pioneered some of the first automotive applications in the 1970s. Because we understand the physics of extrude honing in such detail, we can meet even the most demanding specs with ease. Our experience extends to many different industry applications such as:
What metals can I extrude hone in Las Vegas NV?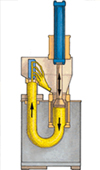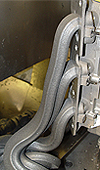 Because we can use any grit from gravel-like 1000 grit to powder-like 8-grit and change various parameters like flow, temperature, and pressure, there is really no metal that can't be extrude honed. Metals we commonly extrude hone in Las Vegas NV include:
Titanium
Iconel
Super alloys
Hardened metals
Aluminum
Bronze
Copper
And more
How long does the process take?
The amount of time required to extrude hone in Las Vegas NV really depends on the specs of your project and the cutting rate that you wish to achieve. But, we can definitely say that extrude honing is faster than finishing a piece by hand. It's more affordable too. We have a huge stock of polymers and abrasive grits on hand so that prepping the media won't add any delays to the process.
What will it cost?
For a quote on your project, please contact us online or call (562) 531-2976. Be sure to include a description of the part you want to extrude hone in Las Vegas NV and the improvement you need to achieve so we can provide an accurate quote.
Extrude Hone AFM operates out of Paramount, Ca. We service all U.S. cities from our location in Paramount, Ca. If you have further questions regarding our ability to help you in your location, please call us 562-531-2976.