Experience the enhanced performance of honed out motorsports in Las Vegas NV
For most motorsports enthusiasts, actually driving your truck, car, or bike is only half the fun. The other half is working on your engine and figuring out how to coax the most horsepower and the best performance from it. It's time to explore honed out motorsports in Las Vegas NV. Honing is an ideal performance enhancement for all kinds of engines, including:
2-stroke, 4, 6, 8, 10, or 12 cylinders
Hemis
Diesels
Turbos
Aluminum
Cast iron
How Our Process Works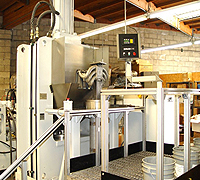 The principle behind honed out motorsports in Las Vegas NV is making all the internal engine passages as smooth and uniform as possible.Extrude Hone enables you to achieve this goal with abrasive flow machining services that can uniformly remove up to 1 mm of material from the most convoluted engine passages.
After over 30 years of experience in automotive abrasive flow machining, we've mastered the art and science of this process. We'll make sure your job is properly set up with the right size abrasive grit, the right consistency of polymer media, and the right flow pressure to remove the precise amount of material that is needed to enhance performance on a given part. We have developed a huge array of durable, hard-working media formulations, all of which feature recirculating abrasives that will flow without clogging or separating.
Benefits of a Honed Out Intake Manifold
If you only want to involve one part of your engine in honed out motorsports in Las Vegas NV, make it your intake manifold. By honing and polishing its interior passages, you can increase fuel and air flow up to 25 percent. This results in more complete combustion of fuel and evacuation of exhaust, so you can enjoy:
Increased horsepower
More thrust
More torque
Better fuel efficiency
Reduced emissions
What About the Exhaust Manifold?
While exhaust manifolds can be honed, for most applications an aftermarket header is the better solution for enhancing performance. However, if you are restricted to original components, we can certainly provide honing for cast exhaust manifolds.
Get the Best Services for Honed Out Motorsports in Las Vegas NV
If you are interested in honed out motorsports in Las Vegas NV, Extrude Hone is here to help. You can trust us for superior quality results every time. And because we have thousands of pounds of abrasive media in stock, you never have to wait for supplies to be ordered to get started. Give us a Call us at (562) 531-2976 or contact us online for a quote including the estimated time frame for your project.
Extrude Hone AFM operates out of Paramount, Ca. We service all U.S. cities from our location in Paramount, Ca. If you have further questions regarding our ability to help you in your location, please call us 562-531-2976.