Have a part to extrude hone in Orange CA? We can meet your exact specs, guaranteed.
Sometimes called abrasive flow machining, extrude honing is an extremely useful process suitable for virtually any level of surface finishing or interior passage improvement. Extrude Hone AFM is here to help you with any part you need to extrude hone in Orange CA, whether it be a single automotive part in need of porting or an entire slew of EDM parts in need of recast removal.
Now you might wonder…
…How the heck does extrude honing work?
Extrude honing works just like you might guess from the name: an abrasive media is extruded through the workpiece to hone the metal surfaces as it passes by. In essence, extrude honing produces controlled erosion, grinding away imperfections. The technique can be used aggressively to enlarge passages or delicately for fine polishing.
Why should I choose Extrude Hone AFM?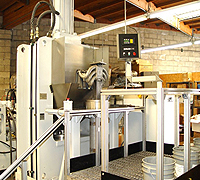 Because you can trust Extrude Hone AFM to get your project done correctly. Because we understand the physics of extrude honing in such detail, we can meet even the most demanding specs with ease. We have ample experience in extrude honing for different industry applications including:
What metals can I extrude hone in Orange CA?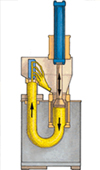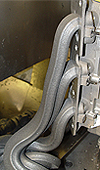 The extrude hone process can be applied with great success to any kind of metal. It is simply a matter of choosing the right size of grit and the right properties of the polymer media to produce the desired result. Some of the materials we extrude hone in Orange CA include:
Titanium
Iconel
Super alloys
Hardened metals
Aluminum
Bronze
Copper
And more
How long does the process take?
The amount of time required to extrude hone in Orange CA really depends on the specs of your project and the cutting rate that you wish to achieve. But, we can definitely say that extrude honing is faster than finishing a piece by hand. It's more affordable too. We have a huge stock of polymers and abrasive grits on hand so that prepping the media won't add any delays to the process.
What will it cost?
For a quote on your project, please contact us online or call (562) 531-2976. Let us know a bit about your needs including what you want to extrude hone in Orange CA and we will give you a cost estimate and timeline to work with.
Extrude Hone AFM operates out of Paramount, Ca. We service all U.S. cities from our location in Paramount, Ca. If you have further questions regarding our ability to help you in your location, please call us 562-531-2976.