Rely on Extrude Hone AFM for highly precise internal deburring in Phoenix AZ
Regardless of what process is used to manufacture a part, microscopic pits and burrs will be left behind on the metal. Our internal deburring in Phoenix AZ can solve this problem. We can help with parts you've made yourself or with aftermarket finish improvements on parts like automotive manifolds.
Now you might be wondering…
What's So Bad About Burrs?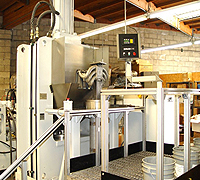 Internal burrs can have a disastrous effect on the performance of a part. For example, burrs can:
Detract from optimal performance by changing how materials flow through the part
Contribute to mechanical fatigue
Break off and cause foreign object damage in the system
Tear skin and tissue in the case of a medical component
Compromise safety in a food processing application by harboring bacteria
Don't just accept these risks. Instead, smooth out both pits and burrs with internal deburring in Phoenix AZ.
Expert Internal Deburring in Phoenix AZ for Every Industry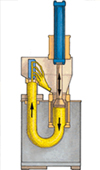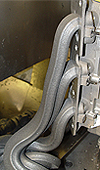 At Extrude Hone AFM, we have pioneered a highly precise and totally controllable process for internal deburring in Phoenix AZ. The process is essentially one of controlled erosion, accomplished with an abrasive grit suspended in a polymer media that is forced through the part with a hydraulic ram. By using grits with different abrasive powers and polymers with different viscosities, and by carefully controlling the flow through the part, we can aggressively remove large burs or polish away tiny ones in any size or shape of internal passage. The surface improvements will be uniform across the entire passageway and will not change the geometry of the part.
Due to the high degree of precision and control that is possible with our internal deburring in Phoenix AZ, we can provide finishing for any industry application, such as:
For Reliable Results on Any Metal, Trust the Pros at Extrude Hone AFM
When you need internal deburring in Phoenix AZ for a precise application, rely on Extrude Hone AFM. We have experience with all kinds of metals, including super alloys, hardened, and difficult to machine materials, as well as softer metals requiring more delicate handling. We'll bring our skills and experience to bear on your project to make sure you get the surface improvements you expect for the cost and timeline we've promised.
If you would like to learn more about our process or get a quote on deburring, please call (562) 531-2976 now.
Extrude Hone AFM operates out of Paramount, Ca. We service all U.S. cities from our location in Paramount, Ca. If you have further questions regarding our ability to help you in your location, please call us 562-531-2976.