Extrude Hone AFM offers expert abrasive flow machining in Placentia CA for all your metal parts finishing needs
Depending on the type of metal part in question and the type of finishing needed, you may have a variety of options. But the more complex your needs and the more exacting your specs, the smaller your field of options for finishing becomes.
The good news is, you've found a process that can help at Extrude Hone AFM:
Abrasive Flow Machining in Placentia CA.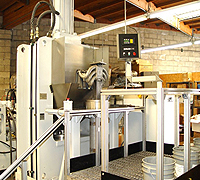 Abrasive flow machining in Placentia CA works kind of like liquid sandpaper, utilizing an abrasive-laden polymer media to essentially erode away unwanted metal from the workpiece. Compared to other finishing methods, abrasive flow machining offers several important benefits:
With the right abrasive grit and viscosity of polymer media, AFM can be used on any metal from titanium to aluminum
It reaches areas hand tools and line-of-sight methods cannot
Both roughing and finishing can be completed in one process
Tooling can be created to selectively direct flow to the areas or passages requiring improvement
The process can be tailored to provide aggressive removal or delicate honing to your exact specs
Uses for Abrasive Flow Machining in Placentia CA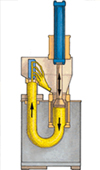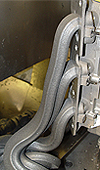 With many different levels of abrasion available, abrasive flow machining in Placentia CA can be adapted to all kinds of metal finishing needs, such as:
Radiussing: Abrasive flow machining can be used to generate continuous, true-edge radii ideal for jet engine discs and other aerospace applications.
Surface Stress Relief: Without proper finishing, EDM recast layers and other types of fatigue or stress points can lead to crack propagation and premature parts failure.
Polishing: No matter how complex the shape of a part or passage, abrasive flow machining in Placentia CA can be used to deliver a uniform surface improvement
Geometry Optimization: The shape of interior passages in engines, turbines, pumps, and hydraulic parts has a big impact on performance. Abrasive flow machining can help smooth and shape passages to optimize fluid and gas behavior. Our process is also ideal for enhancing precision through passage dies.
Deburring: Burrs of any size can alter flow or otherwise detract from highly precise processes. They are especially problematic for food and medical applications because they can harbor bacteria. Abrasive flow machining provides an easy way to remove burrs and improve surface finishes on even the most convoluted passages.
Partner with Extrude Hone AFM Today
As an expert in abrasive flow machining in Placentia CA, Extrude Hone AFM makes an excellent choice of partner for enhancing your metal parts.Call us at (562) 531-2976 or use our online contact form for a quote or more information.
Extrude Hone AFM operates out of Paramount, Ca. We service all U.S. cities from our location in Paramount, Ca. If you have further questions regarding our ability to help you in your location, please call us 562-531-2976.