Extrude Hone AFM offers expert abrasive flow machining in San Diego CA for all your metal parts finishing needs
Most metal parts will need additional finishing after production, to remove imperfections left behind by casting, laser sintering, EDM, or conventional machining. For simple shapes, there may be many finishing options available. But the more complex your needs and the more exacting your specs, the smaller your field of options for finishing becomes.
Lucky for you, you've found a process that can help at Extrude Hone AFM:
Abrasive Flow Machining in San Diego CA.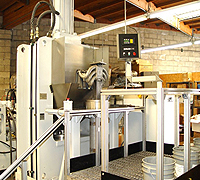 Abrasive flow machining in San Diego CA utilizes specially formulated polymer media to suspend abrasive grit and deliver it evenly to every corner of the workpiece being finished. This process offers several important advantages over other finishing methods:
It can be used on any metal, from hardened, difficult-to-machine super alloys to soft metals like aluminum
AFM can reach even the most hidden holes, slots, and passages that would be inaccessible to other methods
Both roughing and finishing can be completed in one process
The entire workpiece need not be finished--we can direct flow selectively using the tooling
The process can be tailored to provide aggressive removal or delicate honing to your exact specs
Uses for Abrasive Flow Machining in San Diego CA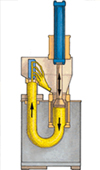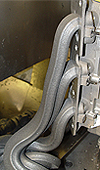 By controlling different variables, we can easily adapt abrasive flow machining in San Diego CA to different uses such as:
Radiussing: By providing a gentle, even, and continuous radiused edge AFM can enhance all kinds of parts, including aerospace parts like jet engine discs.
Surface Stress Relief: Without proper finishing, EDM recast layers and other types of fatigue or stress points can lead to crack propagation and premature parts failure.
Polishing: With abrasive flow machining in San Diego CA, every millimeter of the workpiece can be polished evenly to deliver the desired surface improvement.
Geometry Optimization: AFM can be used as an aftermarket improvement on engine parts like manifolds, turbines, pumps, and hydraulic parts to optimize flow through the passages without affecting volume. AFM is also very useful for resizing precision dies.
Deburring: Even the tiniest metal burrs can interfere with the performance of a part, or even put human health at risk in the case of burr trapping bacteria in a food processing or medical component. With AFM, burrs can be removed without risk of damage or contamination to the passages in the part. The polymer media will carry them totally away.
Partner with Extrude Hone AFM Today
As an expert in abrasive flow machining in San Diego CA, Extrude Hone AFM makes an excellent choice of partner for enhancing your metal parts. Call (562) 531-2976 or use our online contact form for a quote or more information.
Extrude Hone AFM operates out of Paramount, Ca. We service all U.S. cities from our location in Paramount, Ca. If you have further questions regarding our ability to help you in your location, please call us 562-531-2976.