Extrude Hone AFM offers expert abrasive flow machining in San Francisco CA for all your metal parts finishing needs
When dealing with a relatively simple metal part, there may be many possible options for enhancing the finish and removing any small imperfections left behind by the manufacturing process. However, many of these processes have significant limitations for more complex parts. For example, thermal deburring can break off burrs but requires further processing to remove residue.
Fortunately, you've found a process that can help at Extrude Hone AFM:
Abrasive Flow Machining in San Francisco CA.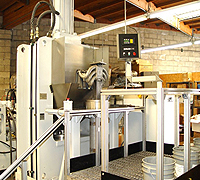 Abrasive flow machining in San Francisco CA works kind of like liquid sandpaper, utilizing an abrasive-laden polymer media to essentially erode away unwanted metal from the workpiece. This delivers many advantages for the finishing process:
It can be used on any metal, from hardened, difficult-to-machine super alloys to soft metals like aluminum
AFM can reach even the most hidden holes, slots, and passages that would be inaccessible to other methods
Both roughing and finishing can be completed in one process
Tooling can be created to selectively direct flow to the areas or passages requiring improvement
The process can be tailored to provide aggressive removal or delicate honing to your exact specs
Uses for Abrasive Flow Machining in San Francisco CA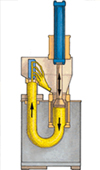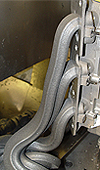 With many different levels of abrasion available, abrasive flow machining in San Francisco CA can be adapted to all kinds of metal finishing needs, such as:
Radiussing: Edges of discs and blades can be finished to a high standard to enhance strength and performance.
Surface Stress Relief: By polishing away EDM recast layers, potential sources of surface stress can be removed to reduce the likelihood of metal fatigue leading to parts or system failure.
Polishing: No matter how complex the shape of a part or passage, abrasive flow machining in San Francisco CA can be used to deliver a uniform surface improvement.
Geometry Optimization: Whether you're talking about a gas or a liquid, the shape and smoothness of the passage will affect flow. Abrasive flow machining can be used to refine interior passages for better flow and better performance from engines, turbines, pumps, and hydraulic parts. Undersized die passages can also be resized with a high degree of accuracy and precision with our process.
Deburring: Burrs of any size can alter flow or otherwise detract from highly precise processes. They are especially problematic for food and medical applications because they can harbor bacteria. With abrasive flow machining, burrs can be removed without risk of damage or contamination to the passages in the part. The polymer media will carry them totally away.
Partner with Extrude Hone AFM Today
If you have any metal parts that could benefit from abrasive flow machining in San Francisco CA, please Call us at (562) 531-2976 today to learn more about our process and get a quote on your job.
Extrude Hone AFM operates out of Paramount, Ca. We service all U.S. cities from our location in Paramount, Ca. If you have further questions regarding our ability to help you in your location, please call us 562-531-2976.