Enhance the performance of your engine with extrude hone porting in San Jose CA
If you are a gearhead, you are most likely already familiar with the benefits of porting intake and exhaust manifolds and other engine components to enhance fuel and air flow. But can you name the number one method for porting?
Hint: it's not hand porting.
It's extrude hone porting in San Jose CA.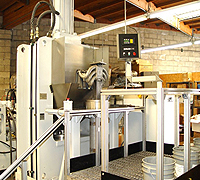 Also sometimes called PowerFlow, the extrude hone porting process was invented by one of our company's founders in 1974. The first engine improved by porting was actually a chainsaw, but the benefits of the process were quickly adapted to all kinds of engines. Today it's used by OEMs like Cadillac and Ford on their top selling models, and it is also being used by hobbyists on:
Racing engines
Muscle cars
Motorcycles
Personal watercraft
High-performance trucks
How Extrude Hone Porting Works
Whereas hand porting can only improve surfaces that hand tools can reach, extrude hone porting in San Jose CA can improve the entire passageway and carries no risk of ripples or unevenness. This is possible because extrude hone porting uses an abrasive-laden polymer that can conform to the exact dimensions of the passage. As the polymer runs through the part, it becomes a flexible slug that sands away material evenly on all sides. Because we understand the physics of the process, we can easily adjust multiple variables to deliver the precise result you want in terms of material removal.
Benefits of Extrude Hone Porting in San Jose CA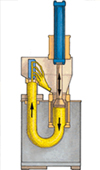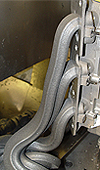 Extrude hone porting in San Jose CA can deliver many benefits for any passage that gas or liquid will be flowing through. The most commonly ported parts are intake and exhaust manifolds, but we can also port engine heads, turbo impellers, housings and pumps, and 2 or 4 stroke cylinders.
The result of the extrude hone porting process is increased flow velocity, not flow volume. This in turn encourages improved combustion in the engine, resulting in:
Increased horsepower
More thrust
More torque
Increased fuel efficiency
Reduced emissions
Typically, extrude hone porting in San Jose CA on a manifold increases flow up to 25 percent. The corresponding improvement in performance will depend on the configuration of your engine.
Why Choose Extrude Hone AFM
At Extrude Hone AFM, abrasive flow machining is our whole business. We're not some hot rod shop that has just purchased an AFM machine for extrude hone porting in San Jose CA--we know the science behind this method and we can guarantee you professional, consistent results that will meet your exact specs.
If you would like a quote on extrude hone porting, please call (562) 531-2976 now.
Extrude Hone AFM operates out of Paramount, Ca. We service all U.S. cities from our location in Paramount, Ca. If you have further questions regarding our ability to help you in your location, please call us 562-531-2976.