Rely on Extrude Hone AFM for highly precise internal deburring in Terre Haute IN
Surface finishing is an extremely important part of the manufacturing process for just about any type of metal part. This is especially true of parts with internal passages that come off the line full of burrs. Fortunately, our process for internal deburring in Terre Haute IN can polish even the most convoluted internal passages to remove even the tiniest burrs.
Now you might be wondering…
What's So Bad About Burrs?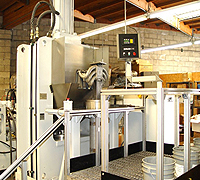 Even very small burrs can have a big impact on the performance of a part and/or the system the part is used in. Burrs may:
Adversely affect performance by changing the flow of liquid or gas through the part
Cause stress resulting in premature parts failure
Contaminate the system and damage parts if they break off
Tear skin and tissue in the case of a medical component
Trap bacteria or food particles, thereby contaminating a food processing application
The good news is, you can easily grind away burrs and improve your parts with Extrude Hone AFM internal deburring in Terre Haute IN.
Expert Internal Deburring in Terre Haute IN for Every Industry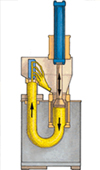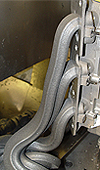 Whether you need internal deburring in Terre Haute IN for EDM manufactured parts or for 3D printed metal parts, Extrude Hone AFM's precision processes can provide the exact results you want, every time. The basic process involves passing an abrasive-laden polymer media over the parts of the metal to be deburred. This will grind away any raised burrs as well as any cavities in the metal. Because we have created a diverse range of polymer media capable of carrying different sizes of abrasive grit and delivering different effects at different pressures, we can achieve anything from light polishing to aggressive surface removal in just about any metal. The surface improvements will be uniform across the entire passageway and will not change the geometry of the part.
With our expert internal deburring in Terre Haute IN, even the most demanding finishing requirements can be met. We frequently deburr parts destined for use in:
For Reliable Results on Any Metal, Trust the Pros at Extrude Hone AFM
When you need internal deburring in Terre Haute IN for a precise application, rely on Extrude Hone AFM. We have experience with all kinds of metals, including super alloys, hardened, and difficult to machine materials, as well as softer metals requiring more delicate handling. There's no "trial and error" involved in our process! You can count on us to deliver the desired result right the first time.
If you would like to learn more about our process or get a quote on deburring, please call (562) 531-2976 now.
Extrude Hone AFM operates out of Paramount, Ca. We service all U.S. cities from our location in Paramount, Ca. If you have further questions regarding our ability to help you in your location, please call us 562-531-2976.