Get your engine components honed out in Anaheim CA to improve performance
Are you constantly looking for the next upgrade you can make to enhance your engine? Consider getting your intake manifold honed out in Anaheim CA by the professionals at Extrude Hone.
How Extrude Honing Works
When a part is honed out in Anaheim CA, a small amount of metal--about 1 mm--is removed from the surfaces of the interior passages. While hand honing is possible, it is not the most efficient process. It takes far too long, and it may not reach the deepest interior passages. With abrasive flow machining, you can achieve totally consistent abrasion throughout the entire part. The secret to this process is a polymer media that works sort of like liquid sandpaper when passed through the part under pressure. This media suspends the abrasive particles uniformly and allows them to recirculate so that you get even surface removal on every twist and bend.
Benefits for Performance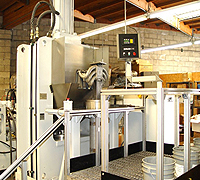 After getting honed out in Anaheim CA, interior passages are smoother, allowing for improved fuel and air flow. This translates into more intense combustion and more complete cylinder evacuation, which can help deliver:
Increased horsepower
More thrust
More torque
Better fuel efficiency
Lower emissions
What Kind of Parts Can Be Honed Out in Anaheim CA?
With a few exceptions, most engine parts that air or fuel flows through can be honed out in Anaheim CA. We can vary the abrasive media depending on the type of metal in the part--for example, a lighter abrasive for aluminum and a heavier one for cast iron. The most common parts to have honed out are intake and exhaust manifolds, but we can also work on turbo impellers, housings and pumps, and cylinders. Honing is not a solution for headers, however, as honing would weaken the weld and create leaks.
Why Choose Extrude Hone
Extrude Hone pioneered the automotive abrasive flow machining process, which is now accepted and used worldwide to improve performance at top brands including Ford. We understand the science behind the process in detail, meaning we can deliver superior results with the size of the abrasive particles, type of polymer media, the pressure level, and the tooling holding your part customized to your specific needs. Our skill is particularly important when you want flow matched parts, since parts cannot be honed together.
Send Us Your Components Today
Considering getting your intake manifold or other part honed out in Anaheim CA?Call us at (562) 531-2976 . Our turnaround time for aluminum parts is 7 to 11 workdays, while cast iron parts will take 3 to 4 weeks.
Extrude Hone AFM operates out of Paramount, Ca. We service all U.S. cities from our location in Paramount, Ca. If you have further questions regarding our ability to help you in your location, please call us 562-531-2976.