Extrude Hone AFM offers expert abrasive flow machining in Fort Worth TX for all your metal parts finishing needs
When dealing with a relatively simple metal part, there may be many possible options for enhancing the finish and removing any small imperfections left behind by the manufacturing process. But the more complex your needs and the more exacting your specs, the smaller your field of options for finishing becomes.
Lucky for you, at Extrude Hone AFM we have the solution you need:
Abrasive Flow Machining in Fort Worth TX.
Abrasive flow machining in Fort Worth TX utilizes specially formulated polymer media to suspend abrasive grit and deliver it evenly to every corner of the workpiece being finished. This process offers several important advantages over other finishing methods:
With the right abrasive grit and viscosity of polymer media, AFM can be used on any metal from titanium to aluminum
Hidden slots, convoluted passages, and cross drilled holes can all be finished with ease
Both roughing and finishing can be completed in one process
The entire workpiece need not be finished--we can direct flow selectively using the tooling
The process can be controlled with incredible precision to meet your exact specs
Uses for Abrasive Flow Machining in Fort Worth TX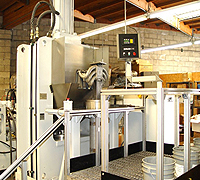 IAt Extrude Hone AFM, we have developed a huge variety of polymers for use in abrasive flow machining in Fort Worth TX, from ultra-thick formulations to thin ones capable of flowing at nearly the speed of sound through very thin nozzles. This gives us the flexibility to provide all kinds of services including:
Radiussing: Edges of discs and blades can be finished to a high standard to enhance strength and performance.
Surface Stress Relief:EDM recast layers can be removed to eliminate risk of failure on highly stressed components.
Polishing: Even the most complex shapes of metal parts and the most convoluted of internal passages can be smoothed evenly with abrasive flow machining in Fort Worth TX. Our process is sensitive enough for even the most delicate honing, enhancing the finish without exceeding the blueprint specs.
Geometry Optimization: The shape of interior passages in engines, turbines, pumps, and hydraulic parts has a big impact on performance. Abrasive flow machining can help smooth and shape passages to optimize fluid and gas behavior. Our process is also ideal for enhancing precision through passage dies.
Deburring: Tiny burrs or imperfections in metal components can impede flow and introduce contamination into manufacturing processes. Abrasive flow machining provides an easy way to remove burrs and improve surface finishes on even the most convoluted passages.
Partner with Extrude Hone AFM Today
As an expert in abrasive flow machining in Fort Worth TX, Extrude Hone AFM makes an excellent choice of partner for enhancing your metal parts.Call us at (562) 531-2976 or use our online contact form for a quote or more information.
Extrude Hone AFM operates out of Paramount, Ca. We service all U.S. cities from our location in Paramount, Ca. If you have further questions regarding our ability to help you in your location, please call us 562-531-2976.